Dudley Tomlinson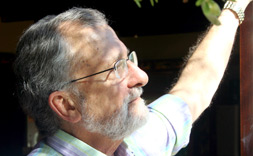 After a professional career in the dance world, overseas & in South Africa, & following a Pilates apprenticeship with Dreas Reyneke in London, Dudley opened Wynberg Pilates Studio in 1998.
He has remained at the cutting-edge of movement ever since, and now specialises in the Tower. (For more information on the Tower, go to http://www.gyrotonic.com/)
His in-depth approach to the Mind / Body aspect of exercise comes from more than 30 years as a pupil and teacher of Philosophy.
Skills

Trained in London in all aspects of Pilates, Dudley is now certified and specialising in the GYROTONIC Tower, and GYROKINESIS. He offers private and duet sessions.

For more information on the GYROTONIC Tower and GYROKINESIS, go to http://www.gyrotonic.com/

 
Gallery

previous

next

&nbsp