facilities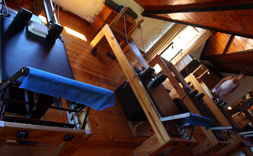 One of the first Pilates establishments to open its doors in Cape Town, we have since expanded from one small space to three fully equipped studios.
We cater to the individual needs of our clients as we help them to a new awareness of their bodies.
Equipment

GYROTONIC & Pilates equipment

2 GYROTONIC Towers
GYROKINESIS Stools
1 Cadillac
Conventional Arc and 6 Baby Arcs
Airex Mats, Large Balls, Overballs, Therabands, Magic Circles, Disco-Sits, Dumbbells, etc
Oov

 

Security & Parking

Limited off-street parking.
Intercom only access

 

Additional Facilities

We also have:

Air-conditioning / heating
Two Restrooms (no shower facilities)
A kitchen with fridge to keep your shopping cool

We're fortunate to have Monica and Max helping us keep our Studios & environment hygienic and aesthetically pleasing.