about us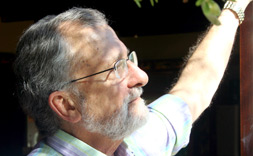 Wynberg Pilates Studio is owned and managed by Dudley Tomlinson, internationally renowned Choreographer and Ballet Master.
Building on a lifetime of experience in movement, Dudley has been responsible for the high calibre of expertise reflected in the dedication of his qualified, professional teachers.
Three fully equipped studios overlook the private courtyard of this Little Chelsea home, providing an oasis of calm and an escape from the stresses of life.
We cater to specific needs

While our professional roots run deep, we remain at the cutting edge of movement therapies. Having watched various fads come and go, we offer the disciplines we have found most effective for our clients, all of which require ongoing, extensive training for our teachers, and which maintain the highest standards in the industry.

This eclectic approach allows us to cater for the specific needs of each individual and offer interesting variety to keep our clients comfortably challenged and coming back for more.

 

Friendly environment

One of the first Pilates establishments to open its doors in Cape Town 20 years ago, we have since expanded from one small space to three fully equipped studios.

Opening out onto the picturesque courtyard of Dudley Tomlinson's Little Chelsea Victorian cottage, there is a wonderful sense of having left the world and its cares behind.

You will leave feeling rejuvenated, refreshed and enlivened.