GYROTONIC and GYROKINESIS Exercise Methods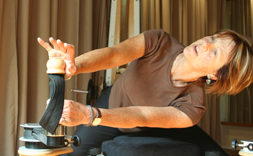 The foundation of all the exercises on both the Tower, and with the Stool and Mat Work, revolves around arching, curling & rotating the spine through every possible combination & plane of movement in relation to the other joints of the body.
Since all movement begins from the spine, this produces movement to its fullest potential. The outcome of dynamic, integrated strength & flexibility, from a strong centre, is beneficial for all body types and fitness levels, from elite athletes to those suffering with a musculoskeletal problem.
For more information go to http://www.gyrotonic.com/
Watch informational video here
GYROTONIC

We have 3 Towers in two Studios.

Private sessions for one or two people under the supervision and guidance of an accredited Instructor.

For more information on the Tower, go to http://www.gyrotonic.com/

 

GYROKINESIS

Personal attention in small classes, using stools and mats, led by an accredited Instructor.

For more information on Stool and Mat Work, go to http://www.gyrotonic.com/generic.aspx?id=5546

 

What our Clients say ..

Three years ago I was diagnosed with osteoporosis and an osteoarthritic hip joint. Pilates and the GYROTONIC® method have reduced the side effects of these medical conditions and my doctors are amazed at my posture and mobility

- Linda Yesorsky

With the stresses of daily life, I treasure my time out at the Studio and leave knowing that my body is stronger and my mind is at peace. Thank you, Mandy!

- Dr. Kamilla Swart-Arries

Three years ago I was diagnosed with osteoporosis and an osteoarthritic hip joint. Pilates and the GYROTONIC® method have reduced the side effects of these medical conditions and my doctors are amazed at my posture and mobility

- Linda Yesorsky

With the stresses of daily life, I treasure my time out at the Studio and leave knowing that my body is stronger and my mind is at peace. Thank you, Mandy!

- Dr. Kamilla Swart-Arries

Three years ago I was diagnosed with osteoporosis and an osteoarthritic hip joint. Pilates and the work on the Tower have reduced the side effects of these medical conditions and my doctors are amazed at my posture and mobility

- Linda Yesorsky

With the stresses of daily life, I treasure my time out at the Studio and leave knowing that my body is stronger and my mind is at peace. Thank you, Mandy!

- Dr. Kamilla Swart-Arries

Three years ago I was diagnosed with osteoporosis and an osteoarthritic hip joint. Pilates and the GYROTONIC® method have reduced the side effects of these medical conditions and my doctors are amazed at my posture and mobility

- Linda Yesorsky

With the stresses of daily life, I treasure my time out at the Studio and leave knowing that my body is stronger and my mind is at peace. Thank you, Mandy!

- Dr. Kamilla Swart-Arries

 
Gallery

previous

next

&nbsp