Pilates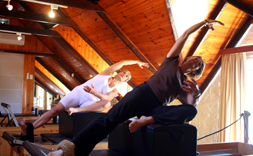 We believe in attention to detail, and have drawn the very best from the most renowned methodologies.
Our focus is to improve body awareness, and restore natural movement patterns and core stability, before challenging your capabilities.
We offer & encourage work on both mats & equipment.
Body Control Pilates® is a registered trademark used under license.
More information on Body Control Pilates®
Matwork

Small classes taught by experienced, qualified teachers, suitable for all ages, body types & fitness levels.

We have a wealth of equipment : balls, magic circles, disco-sits, foam rollers, therabands, dumbells, all of which add variety for you & your body.

 

Machines

The Studio has 4 Reformers, 2 Wunda Chairs & 1 Cadillac & offers private & group classes, under the guidance of specifically qualified instructors.

 

Client Testimonials

Wynberg Pilates Studio has worked magic for me. Personal attention is what they do. Through personal attention they solved 20 years of back pain.

- Peter Bourne

I was referred to Wynberg Pilates Studio eleven years ago by a friend. I found, a warm and very well equipped studio with highly trained instructors, patient and friendly. I continue to be a student of the Studio, because it has helped me a lot to improve my posture, and strengthen the back muscles and increase mobility and flexibility typical, in spite of the age. I am 73 years old!

- Gian Paolo Barzon

 
Gallery

previous

next

&nbsp