Feldenkrais® Method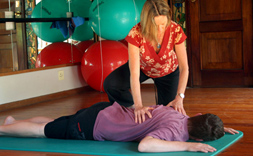 The Feldenkrais® Method was developed by Dr Moshe Feldenkrais (1904-1984), a Russian-born Israeli physicist, mechanical engineer and judo master, initially in response to his own knee injury.
He taught himself to walk again and in the process developed an extraordinary system for accessing the power of the central nervous system to improve human functioning.
He developed highly original methods of rehab, which are valued by physiotherapists looking for ideas which go beyond simply building strength, and involve the whole body rather than focusing on the painful part.
Classes & Workshops

The Feldenkrais Method® can be experienced in a weekly class or Saturday morning workshop. See our Events/News.

Moshe Feldenkrais developed hundreds of movement sequences which improve range of motion, flexibility and co-ordination. The emphasis is on body awareness and body sensing, and students often remark on how much change they experience from doing so little, so gently.

Classes vary in difficulty and can be adapted to all levels of movement ability. Regardless of your age or fitness level, you will find yourself doing more than you imagined yourself capable of.

 

Manual Therapy

Highly effective hands-on work for any limitations in the joints, musculature, fascial planes and dura - for chronic problems, rather than acute ones. The touch is gentle, nurturing and non-invasive.

You may book a treatment directly with Barbara by phone or email. Each session takes an hour; you should wear loose, comfortable clothing.

The number of sessions you will need depends on the depth of change you want. These treatments are usually spaced a week apart, and you are welcome to try just one.

Mobile: 083-745-7086

Email: somatics@telkomsa.net

 

Practitioner Training

Training in the Feldenkrais Method® is part-time over four years, and is accredited by two international bodies.

There are currently no certified practitioner trainings in South Africa, though Barbara McCrea runs courses for professional development in the Feldenkrais Method®.

For trainings abroad:

 

Resources

Feldenkrais exercises can be experienced through CDs.

They are available from

 

Books

Moshe Feldenkrais. Awareness through Movement, Harper and Row, 1972. Non-technical introductory text, includes scripts for 12 movement lessons. Amazon.

Moshe Feldenkrais. The Case of Nora. Harper and Row, 1977. Fascinating case study of a woman Feldenkrais taught to see, read and walk after a severe stroke. Slim, readable and the best exposition of Feldenkrais' thinking. Amazon.

Frank Wildman. The Busy Person's Guide to Easier Movement. 50 practical, illustrated and easy exercises. Available from Amazon, Loot, Kalahari or his website

www.feldenkraisinstitute.org or http://www.feldenkraisinstitute.org

 

Links

For details of Barbara's courses in Johannesburg and work outside of Wynberg Pilates Studio visit www.feldenkrais.co.za

www.feldenkraislondon.com Colleague Scott Clark at my former London practice has an interesting web site with some articles and audio materials to download.

www.somatic.com Ralph Strauch's website offers information, books, and tapes related to the Feldenkrais Method, The Reality Illusion, Low-Stress Computing (using awareness to avoid RSI), and other aspects of awareness and movement. It includes a movement lesson you can do at your computer.

www.mindinmotion-online.com Larry Goldfarb is the most articulate of senior trainers, and has a number of interesting articles to download.

 

Client Testimonials

The Feldenkrais work has revealed just how superbly intelligent, dynamic and flexible the human body is. My encounter with this Method over a long period of time under Barbara's guidance has had a profound effect on my being. Thank you Barbara.

- Liz Mills - Drama and Voice Teacher

The course at Universitas Hospital opened a whole new dimension in my thinking about the body as a system, about the relationship between parts. It was also like a weekend away at a spa, so relaxing.

- Grea Wessels - Physiotherapist

 
Gallery

previous

next

&nbsp